The Information Centre operates within the JUDr. O. Kudrna Museum in Netolice, which is located on the square in a former Renaissance house.
The Information Centre sells
- Souvenirs, postcards, publications, etc.
and provides
- Information about cultural events
- Transport information
- Tips for accommodations, trips, and meals
- Public fax, telephone, and Internet access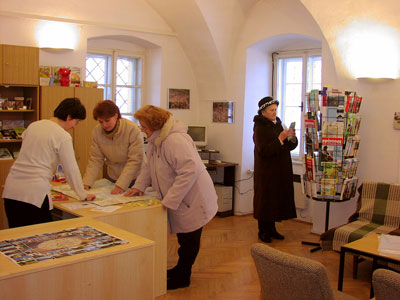 OPENING HOURS: Museum and Information Centre
May – August: daily except Mondays 9 – 12 and 13 – 16
September: Mo – Fri 9 – 12 and 13 – 16
October – April: the museum is closed
(a tour can be arranged for at any time)
October – April: the IC is open Mon – Fri 10 – 12 and 13 – 15,
Wed until 17
Cultural Events:
Cultural events usually take place in the Communal House, the Alois Sarauer Basic Art School, the Kratochvíle Chateau, the JUDr. O. Kudrna Museum, the Municipal Library, SVIS DDM Netolice, the Podroužek TJ Netolice Campsite
Sports Events: the Sports Hall, the Kratochvíle Chateau Racecourse (horse races), the Ján Cynology Club
Netolice and its surrounding
Netolice is one of the oldest settled towns of the Southern Bohemia. Burial mounds, hill forts and other historic sources demonstrate this fact. A market village was founded bellow the hill forts "Ján". It grew to a town thank to the historic trading trail from Lenz in Austria to Bohemia – the Golden Path. Its history outlook remains with some significant elements of its original ground plan till now.
There were organized horse and cattle markets for centuries there. Well-known markets and horse-breeding belong to traditions till present. The Steeple-Chase of Netolice is an annual event in June. Many culture and theatre programs take place in the Kratochvíle above all in summer. Other events: "Around Netolice by bike", "Meeting of friends under the linden", and so on. Famous builders of fishponds worked for Rosenberg's here: Štěpánek Netolický born in Netolice, Jacob Krčín from Jelčany.
Marvelous landscape with mosaic of fishponds, forests and remarkable monuments give place
for relaxing and lessons for nature fans, tourists and visitors and visitors interested in history.
Netolice in its historical landscape is shown along several tourist trails with many places of interest. A dominant feature of the town is the Town Hall, seat of civic administration. There is the Museum of JUDr. Otakar Kudrna in it. The exhibitions display folk embroidery and costumes, rural furniture, specimen of collections of postcard, art industry, weapons and handicraft. The visitors admire the Baroque fountain, the Church of the Assumption of the Virgin Mary, St. Wenceslas Church, folk architecture may be found along the brook Rapačov and lots of other sightseeing's.
The Renaissance castle Kratochvíle is situated close to the town. There are exhibitions of marionette and cartoon film in. These actives are recommended in the surrounding of the town: fishing, horse riding, sport at the station and bathing in the swimming pool called Podroužek close to the campground Podroužek. We are looking forward you'll visit us and enjoy the stay.
Trips:
HISTORIC LANDMARKS OF THE NETOLICE REGION
The short tour of the historic and architectural sites of the town of Netolice comprises of 16 stops with information boards marked with the symbol of the Rosenberg rose.
The long tour is primarily designed as an educational path for cyclists but it is also suitable for walkers. Having 16 stops, it provides information about the historic landscape through which it leads. Approximately 50 km long, the trail can be divided into several stages. A major part of the path goes through the former Rosenberg game park that dates back to the 16th century and contains many ponds and monuments such as mound burial grounds, fortified settlements, folk architecture, Gothic churches, the pilgrimage site of Lomec, and the Renaissance chateau of Kratochvíle.
Recommended trips in the surroundings:
Prachatice direction: Kratochvíle chateau, Osule – ruins of a castle above the village of Vitějovice, Libín hill – an outlook tower, restaurant, and accommodations, Husinec – a water reservoir on the Blanice river and M. Jan Hus's birthplace
Prachatice – a town situated on the historic "Gold Path", urban conservation area, museum, swimming pool
Bavorov direction: Strunkovice nad Blanicí – a sports airport providing sight-seeing flights, Čichtice – a Jewish cemetery, Bavorov, Helfenburk – ruins of a castle and a scenic view point
Lhenice direction: Podroužek outdoor swimming pool with a campsite, Kuklov – ruins of a monastery, Český Krumlov – a chateau, museum, revolving auditorium, Kleť hill – an outlook tower, restaurant, chair lift, and astronomical observatory, Holešovice – folk architecture, Chvalšiny – J. Rosenauer Museum, Schwarzenberg canal
Vodňany direction: Lomec – a Baroque church and pilgrimage site, Chelčice – Petr Chelčický's birthplace, Vodňany – a museum and gallery, urban conservation area
Týn nad Vltavou direction:
Hluboká nad Vltavou chateau, Obora chateau – a museum and ZOO
Zbudov – Jakub Kubata's monument
Plástovice – folk architecture
České Budějovice – the metropolis of South Bohemia, urban conservation area.