Town of Sušice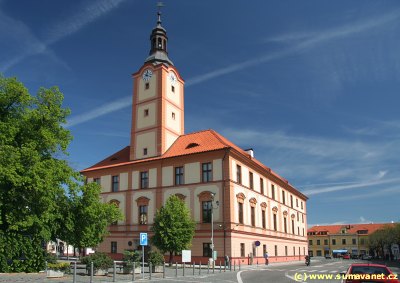 The town is managed by the 21 member Municipal Corporation. Another municipal authority is the 7 member Town Council. The current Mayor is Petr Mottl, who is assisted by the Vice Mayor Ing. Petr Kocman.
Městský úřad Sušice
Náměstí Svobody 138
342 01 Sušice
The town provides and maintains the following services: Hospital, located in Pod nemocnicí Street, is the only municipal hospital in Pilsner Region.
Rest Home, Social Services, Municipal Centre of Culture, Primary Schools in Lerch, Komenský, T.G.Masaryk and Nuželická Streets, Nursery Schools in Smetana and  Tyl Streets, Management of the Municipal Woods, Technical Services managing the winter stadium, the swimming pool, the public toilets situated behind the building of saving bank called Česká spořitelna in Poštovní Street, municipal maintenace and cleansing services,
The Municipal Police located in the Town Hall, telephone number 376 523 250.
The Municipal Office is housed in the Town Hall. This office has extended authority and provides activity for 30 communities in the county. There are 10 departments in the Municipal Office